Hey everyone, Bgirl Ammo here! I want to tell you all about my thoughts and experiences since the coronavirus lockdown started. I am a 13-year-old Bgirl from Bradford and I represent Industrial Techniques and Clean North Crew. I hope you are all doing good, keeping safe and looking after yourselves in lockdown.
Me and all the other bboys and bgirls from the Tranquil Productions family are used to training together nearly every night of the week in Tranquil Productions classes and training sessions. You can see from the timetable the amount we dance, but since the lockdown we have had to find other ways to train and improve as breaking still goes on. As bgirls and bboys, not training even a couple of nights a week is a big change for a lot of us, not having as much space as normal to practice, not having help and feedback from someone instantly or having face to face encouragement and support- your crew clapping in battles, watching you train a set or even just having that vibe from the people around you. Being in isolation on a whole is weird haha, I have a lot more free time. I have my own schedule for the day, but not being around people or allowed to speak and meet face to face is quite hard.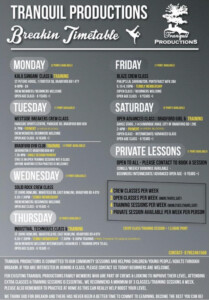 As a bgirl, breaking for me is about commitment. Commitment to get to the top but not just as an individual, as a crew and as a community. Being in isolation at first made me feel un-motivated because physically there is no crew or community behind me. But then the Tranquil Productions online classes started, which means we have certain times to tune in on YouTube and train with Bboy Tranquil and Bgirl Fox and talk to other breakers online. It gives me something to look forward to every single week: learning routines, supporting each other and even getting to teach- well trying to teach some of it to family and get others involved. Recently, Bboy Tranquil set an isolation dance challenge for all families to do at home via the Tranquil TV YouTube channel. [ photo of livestream collage]  I did it with my mum and we loved that it was a seated dance meaning you could attempt it no matter how little space or experience you had. The challenge is still running online here is the link: Tranquil Dance Challenge if you want to try it out!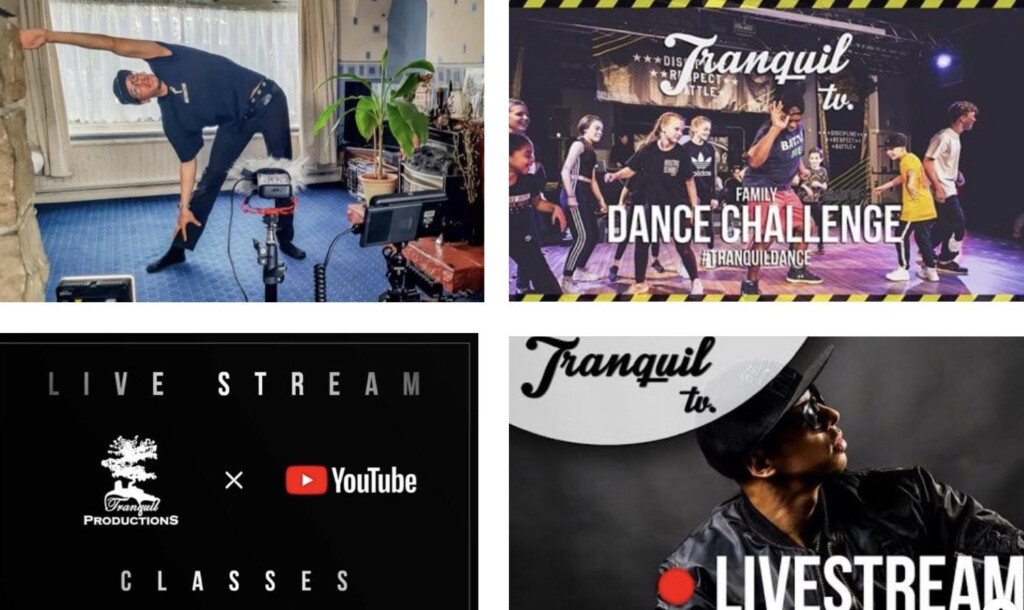 Isolation has distanced us from others physically, but Tranquil Productions helps connect people through breaking. We have public livestreams where anyone in the world can join and then private ones just for the students of Tranquil Productions and we call ourselves Tranquil Productions Family.  After the private livestreams Tranquil or Fox pull out of a hat two students to do an online battle. We have to post a round on the Tranquil Productions Family Facebook page within a certain time frame and then we all vote who we thought won and why to give feedback for both breakers.  Me and Bgirl Sabrina got picked for the very first battle. I won by a close couple of votes but watching Sabrina's round was really refreshing! Watching her battle and seeing her new set and moves was great, I loved seeing how other people are improving in this time and what everyone has been working on in the past couple of weeks. Doing the online battles also gives us something to work on from home and keeps us all active.
At the start of lockdown, I set myself some goals of improving my sets and to work on some more advanced moves, which I want to achieve by the time this is all over. But overall, as a bgirl I want to never stop pushing myself to get better and to never doubt what is possible of me to achieve.
I hope to be training again with everyone soon. I hope you enjoyed reading my isolation journey so far.
Thanks, Bgirl Ammo :]